I'm Fitz, the Creative Technology Lead on Pinterest's Creative Strategy team. I joined in 2018 after many years of leading agency innovation teams/work.
​
I'm a jack of all trades in tech and marketing, thriving when solving new challenges.
Strategic mindset. Tech skillset. Deep, lifelong passion for Creativity and Marketing.
I do my best work with folks that are smart, hard-working, and collaborative by nature.
2021: SXSW Speaker for Pinterest Global

2021: Keynote speaker at Korea's 'Next Challenge' Entrepreneurs Conference

2019-2021: Top 3 Submissions to Pinterest Annual Hackathon (150+ entires each year)

2018+2019: Pinterest Award Winner:
"Put Pinners First" & "The Knitter"

2017: Google + The Drum's 'Young Innovator'​

2016: AdAge Magazine Cannes Edition 'Creative You Should Know'​ (1 of 11 globally)

2015-present: Guest lecturer: Syracuse Newhouse School of Comms., VCU Brandcenter grad program, Miami Ad School, LIU Marketing

2015: Campaign Magazine 'Fearless Thinker' Cannes winner / guest reporter

2014: Yahoo! 'Media Stars' winner

2014: NYC StrategyHack Winner
Cannes Lions: 1x Grand Prix, 1x Gold, 3x Silver, 2x Bronze, 12x Shortlist

Clios: 4x Silver, 3x Bronze, 1x Shortlist

One Show: 1x Gold, 1x Silver, 1x Bronze

AdWeek Project Issac Innovation:

Gold

D&AD: 1x Bronze, 1x Shortlist

Webbys: 3x Winner, 1x Finalist

ARF Ogilvys: Grand Ogilvy

iab.MIXX Interactive: Silver, Shortlist

Shorty Awards: Finalist 2x

CreativePool: Winner / Gold
An Alexa, AI-powered game, "The Maze" uses the show's entire sound library to bring the park to life in your living room.
Cannes Grand Prix, Audio/Radio
Cannes Gold Lion, Experience Design
Cannes Silver, Branded Content
Cannes Bronze, Audio/Radio
Cannes - 10x Shortlists
Clios 4x Silver, 4x Bronze, 1x Shortlist
OneShow Gold, 2x Bronze, 5x Shortlist
Webby Winner Branded Content
Assorted wins in ADC, AICP, ANDY, Appy, Creative Review, D&AD, Lürzer's Grand Slam, OMMA, WARC
360i's most awarded campaign ever, besting the Oreo tweet
Featured in dozens of major tech, media, and advertising trades
Team:

AndrewHunter, DougMurray, LayneHarris
for the Christopher & Dana Reeve Foundation
In partnership with Axios: Innovative accessible toys that help people living with paralysis play with their children
Cannes Silver Lion, Cyber
Adweek Project Isaac Innovation Winner
CreativePool Product Winner
Webby Award, People's Choice
Global Dentsu Network Mobile & Digital Star, and Craft & Design Star
3x Shortlist, One Show
Creativity Online Editor's Pick
Featured in AdWeek, Advertising Age, Forbes, Fox, HuffPo,
TLC, Fortune, Toy Insider, Disability Today
Team:

Layne Harris, Corel Theuma, James Rogala, Fabio Seidl
First of its kind voice experience on the Google Home smart speaker,
giving authentic Irish toasts for dozens of occasions, cocktail recipes too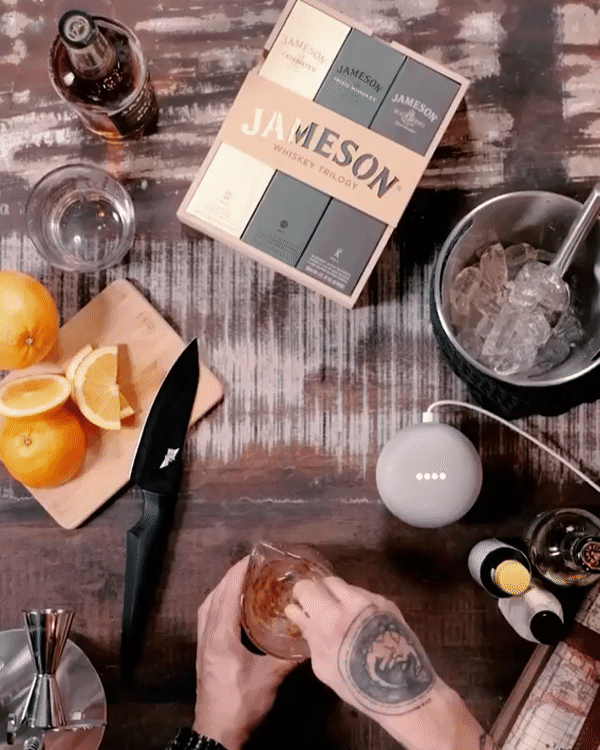 4.3 Star Rating from 75+ reviews
Featured in AdWeek, SocialMedia.com, Snaps, Skyward, Muckrack
Using real time API data to help NYC
photographers capture perfect photos
Cannes Silver Lion, Cyber
Cannes Bronze Lion, Outdoor
2x Shortlist & Silver, One Show
Silver, iab.MIXX Interactive
Featured in Creativity Online, AdWeek, Advertising Age, Mashable, MediaPost, PetaPixel
Team:

Layne Harris, Corel Theuma, James Rogala
Four years spent building the most innovative, press-worthy, revenue-earning programs in the company's history. So much more than what I can fit in four boxes...
Creator: Pin Extension Ad Unit



Concepted, built and ran an entirely new ad unit and Sales Package: "Pin Extensions". Launched in Q1 2020.



Revenue earned:




2020

$21+ million


2021

$106+ million


2022 proj.

$135+m
Sales + Creative Strategy XFN Lead



Global head liaison for Sales/CS to XFN teams: Product, PM, PMM, Ad Formats, and Monetization teams. Sharing learnings, feedback, and directly shaping Pinterest's native ad offerings, including our 2022 Home AR launch.
Creative Strategy Innovation Workshop Creator
Led development of multi-day Advertiser Innovation Workshop that resulted in multiple award-winning campaigns, millions in media dollars, and countless press features for Pinterest + our advertisers.
Hackathon: 3x Finalist / Winner



Three straight years as finalist or top idea in annual company-wide "Makeathon".

Often leading one of the only non-Engineering teams in the fiercely competitive hackathon
I
Unseating "diet" as the New Year's most popular word with a custom-built TV hack, with matching Chrome extension
Cannes Shortlist, Cyber
Winner Grand Ogilvy in ARF Ogilvy Awards
Featured in Creativity Online, AdWeek, Advertising Age, MediaPost, Refinery29
Team:

Layne Harris, Grace Harris, Jenna Zink
The first crowd-sourced social network for trick-or-treating to help little monsters make the most of their precious candy-seeking time
Shorty Awards Finalist
Featured in Creativity Online, AdWeek, Advertising Age, TIME, Forbes, Minneapolis / St. Paul Journal
Team:

Layne Harris, Kaleigh McBride, Marissa Cuconato, Daniel Bremmer, Alex Shulhafer